The altar decoration created by Sisters Brigitte and Sabine featured a heart made from the fabric of their weddings gowns, symbolic of the vow of love and union.
The opening hymn was, "Brightly Beams our Father's Mercy".  The chorus reflected the c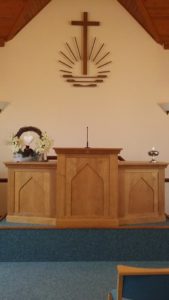 ongregation's tender yearning to shine a light of forgiveness and love into the Departed Realms;
"Let your beacon light be burning! Send a gleam into the night,That some ship still lost in darkness may the harbour safely sight!" The service was held by Priest Shaun Jefferson, assisted by Priest Morgan Price.
It was very touching for the congregation when Priest Shaun, in his opening prayer, mentioned  every individual member who had a petition, or a word of thanks, to lay before the altar.
Text word, Mark 5: 41-42; 'then He took the child by the hand, and said to her, "Talitha, cumi," which is translated, "Little girl, I say to you, arise." Immediately the girl arose and walked, for she was twelve years of age. And they were overcome with great amazement.'
Priest Shaun reminded the congregation that at the end of last year's November Departed Service a rainbow appeared to embrace the whole church building.  It was a miracle of nature, God's own creation.  Our spiritual church is the spiritual Ark that will carry us all safely to the shore.
In elaboration of the text word, the congregation heard how the faith of the sincere and humble believers became reality.  Jesus Christ demonstrated His own faith through His loving miracles and, ultimately, by His death and resurrection.  There is also a spiritual death that a soul may succumb to because of difficult circumstances in life.  Here, in this holy place, our spiritual life can be renewed and strengthened and returned to good health.  When we accept and fully embrace the Gift of the Holy Spirit that is Faith… then miracles are experienced today!
"For faith is the substance of things hoped for, and the evidence of things not seen."
Towards the end of the service Priest Shaun asked the members to take the hand of the person next to them and say; "I love you".  He explained, the Departed hear these words and see this action.  They recognize we are a loving and forgiving congregation, commissioned by Jesus to spread the message of God's great love.  It was a wonderful and powerful moment of unity.