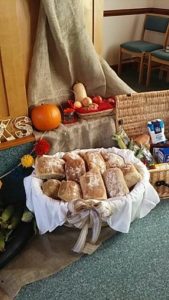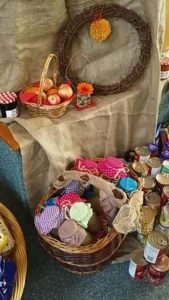 Rector Priest Morgan Price, assisted by Priest Shaun Jefferson. Textword: Romans 1:20
Sisters Samantha, Janine and Bronwen provided a joyful musical interlude before the service.
The Rector opened with praise and thanks to God the Father, the Creator of the natural and material world and the invisible supernatural world.
We were reminded that although God Himself is invisible, His love can be perceived by faith.
God's love towards us is revealed in the sending of His Son to redeem the world.
The love of Jesus is revealed through His life, His sacrificial death and His glorious resurrection. The love of the Holy Spirit is revealed through the Word and imparted through the Sacraments.
We, in turn, express our thankfulness and gratitude in many ways: – by praising and glorifying the Triune God, by offering and sacrificing, by trusting Him in all things, and by spreading abroad the love we have experienced from the hand of God. Paul wrote in 2 Corinthians 4: 17, that he could see God's "creative activity in affliction".  Yes, life can be extremely difficult.  Children of God are not excused the hardships that face all humanity.  We, too, experience pain and suffering, fear and loss, but when we trust in the Lord we will continue to know and experience His comforting love in our natural lives and be strengthened in our spiritual life of faith.
The Rector read a "Prayer of Thanks" sent to the members by a sister  and mother of 4, in the congregation.It exemplifies how trust in God can transform our worries and anxieties into experiences of joy and thankfulness.
"GRATEFUL FOR…
1.         Early wakeups = children to love
2.         House to clean = safe place to live
3.         Laundry = clothes to wear
4.         Dishes to wash = food to eat
5.         Crumbs under the table = family meals
6.         Grocery shopping = £ to provide for us
7.         Toilets to clean = indoor plumbing
8.         Lots of noise = people in my life
9.         Endless questions about homework = kids' brains growing
10.       Sore and tired in bed = I'm still alive!
AMEN"
God's will is that we become what He created us to be….  Like His Son!
God only wills what is good, therefore, every experience can serve to enlighten us and draw us closer to the goal.
Priest Jefferson said that if we were to thank God for everything He does, we would spend all our waking moments in prayerful conversation with our heavenly Father.
As New Apostolic Children of God, we are not restricted to set times or set prayers, but have the freedom to talk to our Father whenever and wherever we feel so moved… God hears all the prayers, the petitions, the intercessions, the praise and thanks of His beloved children.
The service concluded with joyful praise and was followed by fellowship and refreshments.
Please note:  all the tinned and dried goods donated by the members were divided between the local Food Bank (Gwaun Cae Gurwen Food Pantry) and the Homeless Shelter in Swansea.  Sister Brigitte distributed her homemade preserves and freshly baked bread to all the members.