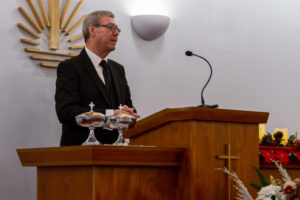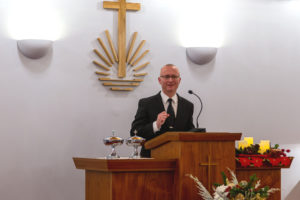 Text word: 'Blessed is the Lord God of Israel, for He has visited and redeemed His people and has raised up a horn of salvation for us in the house of His servant David.' Luke 1:68-69.
Our bishop highlighted a situation where he had given testimony to a lady over 30 years ago. Nothing came of that visit and in perhaps we can say that it was a waste of his effort and time. However, just recently she was in church. Let us remember that the Lord's ways are different to ours.
When we also think about the birth of Jesus, we can see that it was unlikely candidates that started the plan of salvation. Elizabeth a woman advanced in years, and Mary, a virgin, were both chosen to give birth to John and Jesus respectively.
In our own lives, we may also reflect that there is no point in sharing God's grace with others – it really is a wilderness out there. And yet, God does things in His own time.
Let us be approachable – so that colleagues, neighbours and friends can ask us to pray for them – by doing this, we are authentically living our lives of faith and putting the Lord first.